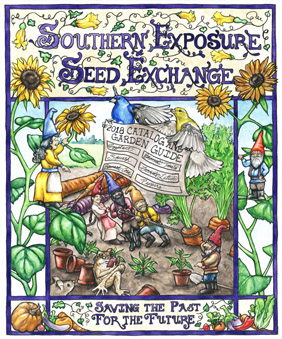 Last weekend while I was watching the booth for Quilts of Valor at a quilt show in Sanford, I took the time to map out my garden and look through the seed catalogue. I felt like a kid looking through the Sears Christmas edition. (Yeah, I know I'm dating myself there.)
Last year was the first year I didn't feel totally overwhelmed by the garden. A lot of that had to do with our summer helpers (thanks Josh and Jake, even though you don't read my blog!) who did a lot of the yardwork so I had more time to spend in the garden. Bobby even had them do some of the tilling, and when it came time to clean the garden and prep for winter, they donated their muscles to help pull stakes up out of the ground.
So I'm excited about this year. I may be biting off more than I can chew, but I'm excited about it anyway. And Saturday I sorted through the seed I'd saved and compared it to my list, and placed the order for what I didn't have and what I wanted to add/replace. Once I get a few tasks done outside, I'll be cheering for spring to hurry up!